Unless you've been living on a desert island for the last year, you've probably heard that you'll need to upgrade ColdFusion's JVM (java virtual machine) before March 11th 2007. Thats when daylight savings time takes effect this year. Since the dates have shifted in 2007, anything that is aware of daylight savings time will require an update. This includes your operating system (Windows, Linux, OSX, etc.), and Java since it has its own internal timezone tables.
And if you use NTP (network time protocol) to set the time on your servers from an internet time server, don't think you're immune. NTP simply syncs your internal UTC (universal time) clock with a UTC clock on the internet. Your timezone tables then determine your actual local time, based on your UTC offset, which changes during daylight savings time.
Updating ColdFusion's JVM is very easy. The version of java that ColdFusion ships with is 1.4.2_09. You can see this if you login to your CF Administrator, then click on SYSTEM INFORMATION at the top of the page.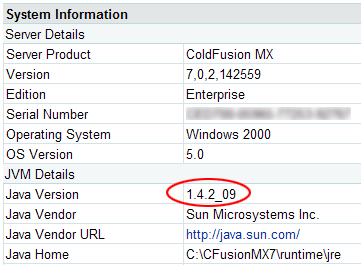 Continue reading 'Upgrading the ColdFusion JVM – on Linux and Windows' »